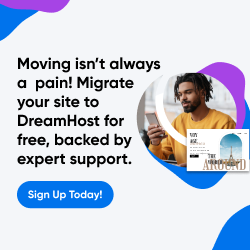 DreamHost is another very popular web hosting provider on the internet. DreamHost provides very fast and secure web hosting services to its customers. Incase you want to host a business website, killer blog or WordPress website then DreamHost is the perfect choice. DreamHost is really good for hosting WordPress websites. They have two types of plans known as shared starter plan and shared unlimited plan. With the shared starter plan you can host just one WordPress website while for the shared unlimited plan you can host unlimited WordPress sites. 
DreamHost Shared Starter Plan
The shared starter plan is good if you want to host just one website. With this plan you are provided with unlimited bandwidth, 50GB SSD storage space. 6 MYSQL databases, 5 sub domains, free domain name, free SSL certificate, WordPress pre-installed and free automated wordpress migration
Technical Details
DreamHost offer 100% uptime guarantee. That means your website will be 100% up and running. DreamHost also provides daily automated backups of your site and you will also get free domain privacy protection. If you want professional email addresses you will need to purchase it for the starter plan but it is included in the shared unlimited plan. You are provided with custom build control panel and also provided with 6 FTP accounts for the starter plan. DreamHost support PHP 7.4, 8.0 and 8.1. Support for Rails, Python, JavaScript and more. 
DreamHost Website Builder
DreamHost website builder will enable you build and customize your WordPress site with zero coding. The drag and drop feature of the website builder will enable you to easily build your website. DreamHost provides 200+ starter site templates covering every industry and more. 
Money Back Guarantee
DreamHost offer a 97 day money back guarantee. This is one of the highest in the web hosting industry. Incase you are not satisfied with their web hosting services your money will be refunded after 97 days.
DreamHost Support
DreamHost provides support to its customers via 24/7 ticket support. They also offer live chat support, phone support and support via email
DreamHost Pricing
If you sign up for the shared starter plan Monthly then the price is $4.95/Month. If you sign up yearly the price is $2.95 per Month and if you sign up for 3 years the price is $2.59 per Month